Highland Park's Exmoor Country Club to host 2018 Constellation SENIOR PLAYERS Championship
The 2018 Constellation SENIOR PLAYERS Championship will be played at Exmoor Country Club in Highland Park, Illinois, July 11-15, marking the first time since 1997 that one of the five senior major championships has been held in the greater Chicago area.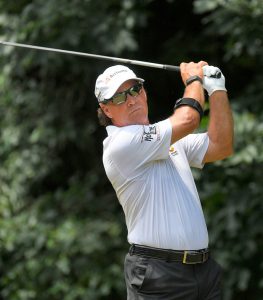 Conducted by the WGA and PGA TOUR Champions, the event will feature a roster of all-time greats in golf, including past Constellation SENIOR PLAYERS champions Jay Haas, Fred Couples, Kenny Perry, Bernhard Langer and 2017 champion Scott McCarron. Other well-known stars expected to compete at Exmoor include Vijay Singh, John Daly, Colin Montgomerie, Miguel Angel Jimenez, Jeff Sluman and Lee Janzen.
Tickets to the Constellation SENIOR PLAYERS Championship are available now at www.CSPGolf.com. Wednesday, July 11, practice round tickets are $18, and any day tournament round tickets for Thursday-Saturday, July 12-15, are $35. A weekly booklet is $79.
"We're pleased to be bringing some of the game's legends to Exmoor and Chicago's North Shore," said Vince Pellegrino, WGA senior vice president of tournaments. "We know first-hand how much fans in Chicago love golf, and we're looking forward to the energy and excitement the 2018 Constellation SENIOR PLAYERS Championship will generate."
Many of the PGA TOUR Champions stars last played in the Chicago area in the BMW Championship, formerly the Western Open, so fans will have a unique opportunity to see their favorite players compete in a senior major at a classic championship venue.
"Chicago is a key market for Constellation and home to our parent company Exelon," said Kristina Gregory, vice president, Marketing Communications, Constellation. "The move to Exmoor will enable us to host the championship at another memorable course, strengthen our relationships with our many customers in the region and share its long tradition of giving back to the greater Chicago community."
Exmoor is one of the more storied clubs in the greater Chicago area, with a history dating back to 1896. The club was one of 11 charter clubs that established the WGA in 1899 and is one of just seven WGA founding clubs remaining.
"To have the legends of the game of golf grace us with their presence is a testament to the powerful place that Exmoor Country Club holds in the local community for hosting meaningful and memorable sporting competitions," said Sandy Stevenson, the club's general chairman for the event.
In addition to daily and weekly grounds tickets, several ticket options are available for the Egan Pavilion.
Egan Pavilion
The Egan Pavilion Hospitality tent on the 15th green offers upgraded food and beverages available for purchase inside the venue. This pavilion has tables and open seating available to ticket holders. Children 16 and under do not need a ticket if accompanied by an adult (limit 4 children per adult).
Wednesday (July 11) Egan Pavilion tickets are $23, Any Day Tournament Round (July 12-15) Egan Pavilion tickets are $55, and Weekly Egan Pavilion Booklets are $119.
The Constellation SENIOR PLAYERS Championship has raised more than $11 million for charity since 1992. The WGA-supported Evans Scholars Foundation has been selected as a primary beneficiary of the 2018 Constellation SENIOR PLAYERS Championship. For more information on the WGA and Evans Scholarships visit: www.wgaesf.org.
About the Constellation SENIOR PLAYERS Championship
The Constellation SENIOR PLAYERS Championship is one of the five majors on the PGA TOUR Champions. 78 players will compete in the event, the winner gaining a spot at THE PLAYERS Championship that same year. As one of the five majors, it plays a large role in determining Charles Schwab Cup points and who will be the Charles Schwab Cup Champion at the end of the year. To learn more, visit www.cspgolf.com.
About Constellation
Constellation is a leading competitive retail supplier of power, natural gas and energy products and services for homes and businesses across the continental United States. Constellation's family of retail businesses serves approximately 2.2 million residential, public sector and business customers, including more than two-thirds of the Fortune 100. Baltimore-based Constellation is a subsidiary of Exelon Corporation (NYSE: EXC), the nation's leading competitive energy provider, with 2016 revenues of approximately $31.4 billion, and more than 35,500 megawatts of owned capacity comprising one of the nation's cleanest and lowest-cost power generation fleets. Learn more at www.constellation.com or on Twitter at @ConstellationEG.