Featured Venues
Plan your next event at any of these Chicagoland featured golf and country club facilities, and experience picturesque golf course surroundings, along with professional event planners to help take care of every detail. Also, our seasoned event planners can help you with recommendations based on budget and preference, or we can plan your event from beginning to end. These featured event venues are perfect for your next gathering, golf outing, wedding, or corporate event.
Chic Private Events & Golf Outings — Sunset Valley Golf Club Now Offers More Than A Beautiful Sunset!
13ninety Restaurant & Bar
Casual, hip, and a smokin' view welcomes golfers, casual guests, group functions, and private parties!
Chicago Northshore's newest jewel, Sunset Valley Golf Club in Highland Park, IL, has reopened its doors to the public after a dramatic $7 million transformation to the course and clubhouse. The new 18-hole course reflects a unique British Heathland design with an openness accentuated with strategic landforms, flowing masses of native grasses and groves of trees. The new clubhouse is now a casual chic destination with a smokin' hot view for private events and golf outings. The clubhouse features the new 13ninety restaurant, a cozy lounge area with fireplace and a stylish bar. For outdoor entertaining, the trellised patio and veranda offers comfy seating around cozy firepits – ideal for a relaxing view of the perfect Sunset.
The new "go to" destination for casual chic ambiance and classic American fare, 13ninety accommodates private customized events whether it's a business reception, golf outing or special celebration. Floor-to-ceiling windows wrap the dining room giving outstanding views of the beautiful golf course. A team of highly skilled event planners will guide you through the unique interior and exterior spaces and extensive menu options to help you bring your special event to life. Choose from a variety of breakfast, lunch, dinner, cocktail reception and drink options.
Private and semi-private events can be booked during:
October-November and March-April: 5pm-10pm
December-February: 9am-10pm
Golf Outings
Whether it is a large charity golf event of 120, or just a group of 12 on a golf getaway, you will be ensured of complete satisfaction. The professional assistance includes on course contest set-up, customized rule sheets, scorecards and cart signage. Services include planning, implementation and final wrap-up.
Blending tradition with a modern twist is really what Sunset Valley Golf Club is all about — the classic beauty of the course, the rich tradition of the game, the modern style of the clubhouse and restaurant, blended with a "private club" level of service brings Sunset Valley together for a completely unique and memorable experience.
For more information and to book your next private event or golf outing, visit www.sunsetvalleygolfclub.org or call 847-432-7140.
---
Arlington Lakes Golf Club – New Event Offerings!
Looking for a quaint yet modern banquet facility and newly remodeled clubhouse overlooking a scenic view with attentive staff committed to making your event both easy and stress free? Look no further than Arlington Lakes Golf Club, where affordable rates and friendly service combine to simplify your party planning experience. Combine 3, 6, 9 or 18 holes of golf with your next meeting for a truly unique experience!
Accommodates 115 guests
Outstanding views
White linens provided
Ability to bring in your own food and soft drinks
Affordable alcohol packages available
Great add-on options
Available Full Liquor Bar (call for pricing)
Ask about:
Smaller room perfect for business meetings, showers in or other intimate gatherings.
Fabulous outdoor patio area seating 70, features beautiful landscaping, outdoor bar and grill options in a serene and relaxing atmosphere.
Book a "Golf & Meeting" Package for a truly unique experience.
For more information on meetings, events, outings, lessons and more, visit www.ahpd.org/algc or call 847.577.3030 or 847-577-3031. Contact Emma Edmondson at 847-577-3031 to book your next event. Via email at: eedmondson@ahpd.org. Weekend dates book quickly, call soon!
Reawaken Your Game – Arlington Lakes Golf Club – View Ad
---
The Glen Club
More Than "Just" A Championship Golf Club!
No matter the type of celebration, The Glen Club is the perfect setting.
Our beautiful 48,000 sq. ft. clubhouse provides several banquet halls and event spaces appropriate for any social or corporate gathering. The Grand Ballroom features floor-to-ceiling windows, overlooks our picturesque golf course, and accommodates groups of 50-200. The private Pickwick Room also features windows and offers a warm and comfortable setting for 20-40 guests. The classic Boardroom, with windows all around, allows for a meeting or intimate brunch, luncheon or dinner event for up to 22 guests.
The Hotel at The Glen Club is a perfect pairing for any event. Our fully appointed boutique style guest rooms are spacious and elegant, many with balconies and beautiful golf course views.
Convenient to downtown Chicago, O'Hare and Palwaukee Airports, our spectacular clubhouse, with world-class guest accommodations offers you glamour and intimacy, unmatched service and sophisticated luxury.
We'll work with you to create a flawless event. Call us at (847) 410-1426 or visit www.theglenclub.com.
Fazio Championship Golf is just the beginning! – View Ad
---
Silver Lake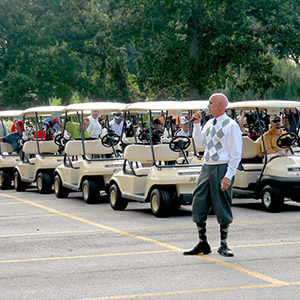 Silver Lake Golf – Your Experts In Golf Outings, Events & Especially FUN For Over 50 Years!

Silver Lake Golf has been hosting outings for more than 50 years. Whether you are hosting a golf tournament to raise funds, reward employees, thank clients, or simply gather a group for a fun day of golf; we are committed to making your outing a success!
If you're looking for something different than the traditional shotgun, Silver Lake offers nighttime options for a fun way to network outside of office hours. Whether you are looking to play in a 9-hole night golf outing with glow-in-the-dark golf balls or looking to keep it more relaxed with a nighttime cosmic driving range event, the options are endless! With varying food and music options, our nighttime events keep it light and social, and let's not forget, FUN!
We accommodate a number of tournament formats and starting options to suit your group. We'll work with you to provide a variety of contest options that will entertain and delight golfers, and our staff will set up each of them before you arrive! When it comes to golf outings, we understand how much work it can take as a coordinator. Let us handle tournament setup and scoring so you can concentrate on the important matters of the day!
Outing amenities include:
• Two Championship 18-Hole Courses and one 9-Hole Executive Course
• Groups of 50-300 golfers and up to 400 people for banquets
• Newly renovated lounge/bar area
• Sponsor signs
• Professional shotgun support staff
• All-weather continuous cart paths
• Two complimentary committee carts
• Tournament scoring
• Pairing and hole assignment lists
Call today to start planning your outing: Liz at 708.349.6940 ext. 350 or email: ldelia@silverlakecc.com.
Silver Lake Golf Outings – View Ad
---
Ravisloe Country Club
Spectacular Clubhouse For Weddings And Special Events
Ravisloe has it all: unparalleled ambiance, with Gilded Age architecture housing banquet facilities newly renovated in the classic style. Lush garden surroundings. Relationships with carefully selected "preferred" vendors. And, an experienced and enthusiastic staff dedicated to making your event wonderfully memorable and memorably wonderful.
Please call (708) 798-5600 for more information or e-mail weddings@ravisloecountryclub.com.

 Wine, Dine, Stay and Play at Ravisloe – View Ad
---
The Odyssey
Your Journey Begins Here…
At The Odyssey, our mission is to provide our clients and their guests with an exceptional experience, not only on the golf course but also with our hospitality, event space, and catering. Whether you're planning a wedding, holiday party, corporate function, or celebrating a milestone, The Odyssey has it all! Our crystal chandeliers, white marble dance floors, and beautiful golf course views create a stunning atmosphere for your special event.
We also welcome all guests to our Champagne Brunch every Sunday with a buffet created by our Executive Chef and culinary team.
For more information, visit theodysseyvenue.com.
 Weddings, Golf Outings, Showers, Meetings and More at Odyssey – View Ad