American Dunes. There is no place like this in America. This is for America.

"I love the game of golf, but I love my country even more."
— Jack Nicklaus, American Dunes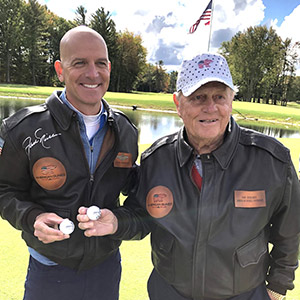 Many of you may have fond memories of playing a very special southwest Michigan golf course, known as Grand Haven Golf Club, several years ago or more. Tucked away just a few miles off the eastern shoreline of Lake Michigan, Grand Haven Golf Club was designed by well-known Michigan Architects Bruce Matthews and son Jerry Matthews. Or maybe in recent years you've driven past this "little golf course gem", once known for its winding fairways of tree-lined forestry and picturesque sand dunes, to find the golf course closed. Since its opening in 1965 to 2018, those majestic pine trees—now matured for over 50 years—had almost completely covered the golf course and its beautiful dunes from view, making play extremely difficult—if not nearly impossible.
Going back in history over 20 years ago, Dr. John Rooney purchased Grand Haven Golf Club in 1998. Then in 2007, Rooney's son, Major Dan Rooney—a fighter pilot in the USAFR and PGA Professional—founded The Folds of Honor, a non-profit organization that provides educational scholarships to families of military men and women who have fallen or been disabled while on active duty in the United States Armed Forces.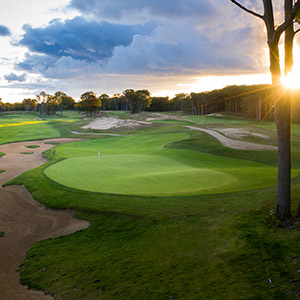 However, it wasn't until 2018, that Lt Col Dan Rooney, F-16 Fif Grand Haven Golf Club, would approach his childhood hero, Jack Nicklaus, with his grand vision to save their financially struggling family-owned-and-operated Grand Haven Golf Club.
On February 22, 2018 sitting down with Mr. Nicklaus at The Bear's Club in Jupiter, Florida, Nicklaus quickly said yes to Rooney's vision and plan to transform the struggling Grand Haven Golf Club, and to preserve the birthplace of Folds of Honor. Mr. Nicklaus jumped on board and brought with him time, talent, and many resources of Nicklaus Design–the world's leading golf course design firm. His firm has designed over 425 championship golf courses around the world–with Nicklaus himself being personally involved in over 300 of the course designs.
Nicknamed "The Golden Bear", Jack Nicklaus was a major force in professional golf from 1962 through 1986. He won 117 tournaments including The Masters six (6) times, five (5) PGA Championships, four (4) U.S. Open Championships, and three (3) British Open Championships. He was a member of the winning U.S. World Cup team six (6) times and was a record three-time individual World Cup winner.
Grand Haven Golf Club closed in 2018, and some two years later, the historic golf club was soon to be transformed into a national treasure that would forever mark the birthplace of the Folds of Honor. Completely redesigned and reimagined, sculpted through deep sand dunes—and inspired by a passion for America—American Dunes Golf Club was born. Built to honor American warriors and to fund the education and legacies of their families, American Dunes Golf Club is also a safe haven and place of gathering for patriots who share Mr. Nicklaus' love of the game and our country.
To fund the construction of American Dunes, there are 18 individual hole sponsors and a small group of investors. This group of patriots who believes in the mission of the Folds of Honor has allowed this dream to take flight, while recognizing the legacy of Barbara and Jack's contributions to our military. All proceeds and profits from American Dunes will benefit the Folds of Honor recipients and their families. Since its inception, Folds of Honor has provided over 28,000 scholarships worth over $140 million.
Opening in time for Memorial Day 2021, golfers of all levels will come to play this incredible dunes-like course with dramatic local topography and a sand base that covers the entire property … and will experience the most heroic round of golf they have ever played. At American Dunes Golf Club, not only will you enjoy a challenging and very playable golf course, you will be celebrating all that makes America great, as well as contributing to a cause grander than all of us.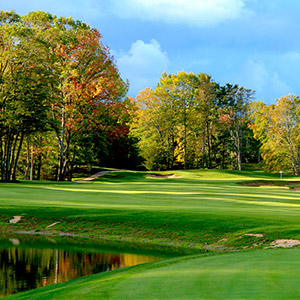 Our heritage, our freedom, and daily reminders of those who fought for our freedom will be visible throughout the golf course. For example, at 1300 hours, 1 p.m. every day, the golf course will pause. Taps will be played across the course, and a bell will toll 13 times, in honor of the 13 folds that bring a folded American flag to its shape. "The whole place will really shut down for a couple of minutes," Rooney said. Each of the signature 18 holes will have one of Nicklaus' 18 Major championships alongside a Folds of Honor recipient.
According to General Manager, Doug Bell, "Parts of the golf course are so wide open that you will feel like you're at Arcadia Bluffs or Erin Hills in some spots. You can see forever … with golf being played on nine different holes. There are two different features for the course. You leave the clubhouse and you're in a flat, parkland setting—somewhat of a 'soft start' to the course. Then, you get dunes for the next 16 holes. By the time you hit the 4th hole the cameras will come out and the 'wow' factor will set in."
On top of the course sits a Squadron bar and a 16-room lodge called, "The Camp At American Dunes" that features 12 staterooms on the upper level and four suites. The Camp is located near the clubhouse patio and firepits are available each evening. "Our restaurant-bar is insane. We've literally replicated a fighter squadron bar," Rooney said. "The drafts of Anheuser-Busch products actually come out of an Aim-9 missile behind the bar, stuff people have never seen in their life. You go to drink a hand-cramping cold Budweiser while sitting in ejection seats."
We at GOLF NOW! Chicago and other members of local and national media were fortunate to get a sneak peek at this spectacular golf course, clubhouse and pro shop in the latter part of last September, along with Sponsors and Donors, and Folds of Honor Recipients and their Families. It was a surreal two-day experience playing this fantastic course, as well as the special opportunity in meeting and talking with Dan Rooney and Jack Nicklaus during the hour-long press conference outside the clubhouse on the golf course.
American Dunes is scheduled to open to the public on May 3, 2021. Reservations for tee times started availability as of December 15, 2020. Rates for 18 holes will be $150 during the summer, and $100 in October. Rates for 9 holes will be $100 during the summer, and $75 in October after 3 p.m. (1500 hrs. EST). Active military and veterans will pay $100 for 18 holes during the summer, and $75 in October. Active military and veterans can play 9 holes in the summer after 3 p.m. (1500 hrs. EST) for $75, and 9 holes in October after 3 p.m. (1500 hrs. EST) for $50.
For more information and to book your tee time reservations, visit americandunesgolfclub.com or call 616-842-4040.