No "Gimme's" Here…Windy City Amateur Tours Offer Competitive Golf for All Skill Levels
GWAT, WCGT, NIMAGA, GCAM, and NAGT is an alphabet soup of acronyms that may not be recognizable to the average Windy City golfer, unless they are a member of one of the amateur golf tours that operate in the metro Chicago area. Some are affiliated with nationwide organizations that feed into national championships, while others are locally independent, but all exist to provide an outlet for local golfers to compete in tournaments guided by the USGA rule book.
"I played competitive 12-inch softball into my early 50's, and when I couldn't play anymore due to injuries, the amateur golf tournaments provided an outlet for me to fill the competitive void," shared Bill Stuhr of Carpentersville at the Golf Week Amateur Tour event at Harborside in May. Round Lake Beach resident Rob Davis drove 70 miles to the south side of Chicago and offered a different spin. "My friends like to stay close to home and don't like to play the more expensive courses, so this is a chance for me to play the better courses in the area."
The GWAT operates 47 different tours, and members have access to both the 13 weekend events run locally and any of the hundreds of others across the country. In addition to Harborside, the Chicago tournaments are held at many of the top public courses in the area, including Cog Hill #4, Cantigny, ThunderHawk, Prairie Landing, Bolingbrook, Stonewall Orchard, Bowes Creek and the Highlands of Elgin, plus a 2 day event at TPC Deere Run near the Quad Cities, current home of the PGA tour John Deere Classic.
Stuhr heard about the Golf Week events from his nephew, and Rob Maguire, the director of the Chicago tour since its inception in 2008, confirms that much of the growth in membership over the last few years is through word of mouth. "We have 300 golfers for the 2015 season, and I think our success really boils down to our members. We really have a great group who enjoy each other's company, enforce the rules and have an interest to make the tour better. They are not an exclusive membership, and they look to grow the tour and are really the driving force."
The event at Harborside in May was the largest non-major in Golf Week tour history as 156 golfers competed on the Port and Starboard courses in 5 different flights which covered scratch golfers to 20-plus handicaps. An annual membership costs $100, which is in the middle of a range from $45 to $199 for the other tours. Membership includes a USGA handicap and a year's subscription to Golf Week magazine, plus discounted practice rounds at tournament courses, and similar perks are included in the fee by every tour.
A common theme for all local tournaments is pace of play, and each tour takes great care to ensure that rounds are played in 4 hours 30 minutes or less, as courses today are laser focused on the time constraints of the modern golfer. The GWAT designates a player from each tee time as a "Pace Monitor" and requires that all groups remain within 15 minutes of the preceding group or risk assessment of a 2 stroke penalty, and a few lost balls and some overly deliberate play had our foursome scrambling down the 9th fairway at the Starboard course to catch up. Other tours use similar rules, with some like the Weekly Challenge employing electronic monitors and on course marshals to track the time.
The Golf Week tour takes the fast play mantra one step further than the others by capping the score on a single hole at triple bogey and requiring the player to pick up and help the group finish the hole as quickly as possible. "The triple bogey rule is a tour rule that is applied nationwide," shared Maguire. " I would guess some rules of golf purists would argue with it, but we've never had push back with members here in Chicago and many like it to save them from a really bad hole, and we want the players to have a great experience. The courses also like it because it helps with pace of play."
Jim Rupany, a veteran of the Weekly Challenge Golf Tour and current Board of Director member, would fall squarely in the golf purist camp as he shared a story at the WCGT event at Cog Hill #2 in July. "I was playing well in a tournament at Oak Brook Golf Club several years ago and I took a 13 on a hole and ended up losing by one shot. But those are the rules we play by."
The Weekly Challenge tour dates back to 1991 and is celebrating its 25th anniversary as a Windy City centric tour. As the name implies, 24 single day events are held weekly from mid-April to early October, with a winner only Tournament of Champions at Bull Valley culminating the season.
The WCGT plays all their tournaments as Net scoring, a deviation from Golf Week's gross score within flights. "We feel that there is a big enough skill difference within the flights that using net score is fairer, and we take great care to make sure the handicaps we use are accurate," added Mike Zicha, a 20 year member of the tour.
The WCGT uses a proprietary handicap system that's been developed over the years. "Our system utilizes the best 5 of the last 10 WCGT tournament scores," shared Dennis Karns, Director of the WCGT since 2003. "Until a competitor posts 10 WCGT tournament scores, our Handicap System includes volatility limitation rules which limit the severity of swings back and forth in handicap indices."
"We've also accumulated and studied thousands of tournament scores to develop our own Course Difficulty Rating, which we apply to calculate each players' course handicap. Application of our CDR virtually eliminates the possibility of sandbagging, as less than 1% of our historical net winning scores are deemed to be exceptional tournament scores by the USGA."
The average fee for a Weekly Challenge event is $150, about $20 more than any of the other tours, but the prize pool through the first 10 events of 2015 was $56 per participant, a noticeable difference from the approximate $20 average of the other tours. The WCGT also guarantees payout to the top 30% of the field in each regular tournament and 40% in the 4 major tournaments played in June – September.
While most of the tours play solely on weekends, the WCGT schedules about half their events during the week. "We discovered that our member demographic included many golfers who were in professions were they had control over their weekday schedules and for some time we've tried to more or less evenly split our tournaments between weekends and weekdays," said Karns. "A by-product of weekday events turned out to be easier scheduling, lower costs and availability of more courses otherwise unavailable during prime weekend times." The WCGT schedule for 2015 includes both Cog Hill #'s 2 & 4, along with the Village Links of Glen Ellyn, Highlands of Elgin, Stonewall Orchard and Heritage Bluffs, plus 6 weekday tourneys at private clubs.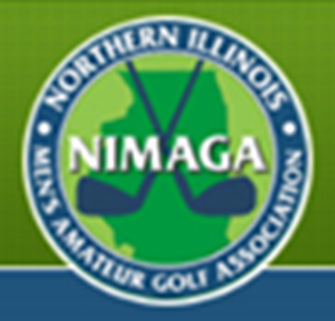 The Northern Illinois Men's Amateur Golf Association also offers tournaments during the week, with 7 of the 17 events scheduled on Monday thru Thursday. The NIMAGA website shares that it is "a not-for-profit Illinois corporation organized in 1960 for the dual purpose of promoting amateur golf and enabling scratch and handicap golfers in the Northern Illinois area to participate in events held under tournament conditions," and its 55 year history makes it the longest running amateur tour currently in operation in Chicagoland.
NIMAGA events are played using net scoring within handicapped flights and senior divisions, although payouts are also provided to the top one or two gross scores, depending on flight size. The average event entrance fee is just over $70, by far the lowest of the 5 local tours, and though upscale facilities Harborside and Makray are on the schedule, they mostly favor lower profile, less expensive courses that include overlooked gems like Phillips Park, Randall Oaks, White Pines, Old Oak and Prairie Bluff, to name a few.
Where NIMAGA has a long history in the area, the North American Golf Tour is the new kid on the amateur golf block as it begins its 2nd year of operation. The NAGT is a collaboration between Patrick Polzin, a long time local tour player, and John Downey, who brings 20 years of experience running tournaments in the area, and they are featuring several options to try to differentiate themselves from the other tours.
The average entrance fee for the 22 rounds of golf over 19 events is $110 if registered 2 weeks prior, but unlike the other tours, non-members are then allowed to sign up and participate if there is still room available, at a $15 extra fee. Lower handicap flights will be played at Gross Score, while 16+ handicaps will play using Net score.
Players are also allowed the ability to move up one set of tees within their flight that they may be more comfortable playing. "Although 2 players may have the same handicap, one may drive it 230 yards off the tee, while the other may hit a drive only 180 yards but is strong around the green. We'll give the shorter hitter the option at the beginning of the year to play from the closer tees, which will be reflected in his course handicap," explained Polzin. "We're really focused on making our events both competitive and fun, and we don't want anyone to think that they are not good enough for tournament golf."
In an effort to be junior and collegiate golfer friendly, participation in all prize games is optional, which would allow the younger golfers to play for trophies and not pay into the scoring prize pool, which varies between $20 to $40, depending on the event status; additional games such as gross/net skins, a "Quota" game using the Stableford point system, and closest to the pin contest are also available, with all moneys paid out at 100%.
A unique 54 hole Tour Championship is scheduled for September 18-20 at The Course at Aberdeen in Valparaiso, another deviation from the other tours. Separate awards are also presented to the Player of the Year and for a Summer Series of 5 tournaments in June, July and August, plus a Hole-In-One contest is conducted throughout the year.
The Golf Channel Amateur Tour is the other player in the Windy City area with corporate backing and a national network of affiliates. The Chicago Tour is one of 50 throughout the country and members are eligible to participate in any tour events nationally, making it ideal for those that travel. "Many of our members will plan business trips and vacations around other tour's schedules," said Chicago Tour Director Jay Casaletto, who has 17 years' experience locally as a golf professional.
The season consists of 10 weekend events at mostly high profile layouts, and is the only tour to have Mistwood on the 2015 play list, the Golf Magazine "2013 U.S. Renovation You Can Play" Award Winner. Tournaments are played at Gross score within 6 different flights in an Open and Senior (over 50) division. In addition to gift card prizes, members compete for Merit Points in an effort to qualify for the Nationals at PGA West in La Quinta, CA. The championship has the added bonus of being broadcast on the NBC Golf Network.
Major tournaments are also held across the country, with many of the Chicago members participating at the 2 day events at Blackwolf Run in Kohler, WI and Swan Lake in Plymouth, IN, both within a 2-3 hour drive from the Windy City area. "Our events are professionally run and the GCAM tour is great for golfers who like to compete and play with something on the line, but don't want all the politics of a private club," stated Casaletto, who is in his 2nd year as the Chicago Director.
So here's a few things I learned from my first encounters with amateur golf in the Windy City :
• Don't ever expect to hear a playing partner utter "Good by Me," as there are no gimme's here, and the 18 inch putt I rimmed out on the 4th hole at Cog #2 and a few other short putts that were missed showed that anything can happen until the ball finds the bottom of the cup.
• If you hit a ball beyond the white stakes or you can't find it outside a hazard, it's stroke AND distance, and at least 4 times shots from our foursome that were obviously in play disappeared into the rain swollen Cog Hill rough, and the trek back to the point of contact is a humbling and penal score killer.
• A real life Roy "Tin Cup" McAvoy recreation might happen if you can't clear a water hazard, and I thankfully made it over the pond fronting the 9th hole at the Ravines course on my 3rd try and got up and down to save a quadruple bogey.
• Unless "Clean and Place" rules are in effect, if you improve your lie you'll likely receive scornful looks from your group, in addition to the penalty stroke.
Although I was admittedly nervous playing in an unfamiliar, formal tournament setting, I had a great time as the experience was both exciting and frustrating, but ultimately a lot of fun. I was told that players who come out for the first time and normally shoot in the 90's will often struggle to break 100 under the strict rules of golf, and though I was able to score in the mid-90's at Harborside (with the triple bogey rule saving me one stroke on the 3rd hole), my round at Cog Hill fell perfectly within this model as 4 blowup holes pushed me into the low 100's.
But I know I can do better, and now that I've had a taste of Windy City Amateur golf, I'm certain that another try at a tournament on one of the local tours listed below is on my golf horizon.
Golf Week Amateur Tour (GWAT)
www.amateurgolftour.net
Director – Rob Maguire
Membership Fee – $90, includes 1 year subscription to Golf Week magazine, Tour Hat and Bag Tag, USGA Handicap, Practice Round Discounts
Number of Events – 13 (14 Rounds) Weekends
Scoring – Gross Within Fights
Average 2015 Event Fee (per round) – $126
Average 2015 Payout per Player – $22 (through 7 events)
Average 2015 Field Size – 128 players (through 7 events)
Weekly Challenge Golf Tour (WCGT)
www.wcgt.com
Director – Dennis Karns
Membership Fee – $175, includes CDGA membership
Number of Events – 24, Weekends & Weekdays
Scoring – Net Within Fights
Average 2015 Event Fee (per round) – $150
Average 2015 Payout per Player – $56 (through 10 events)
Average 2015 Field Size – 32 players (through 10 events)
Northern Illinois Men's Amateur Golf Association (NIMAGA)
www.nimaga.org
Membership Fee – $55, includes handicap service
Number of Events – 17, Weekends & Weekdays
Scoring – Net Within Fights
Average 2015 Event Fee (per round) – $71
Average 2015 Payout per Player – $20 (through 6 events)
Average 2015 Field Size – 75 players (through 6 events)
Golf Channel Amateur Tour (GCAM)
www.gcamtour.com
Director – Jay Casaletto
Membership Fee – $199 includes USGA Handicap Index service
Number of Events – 10 (11 rounds), Weekends
Scoring – Gross Within Fights
Average 2015 Event Fee (per round) – $131
Average 2015 Payout per Player – $20 (through 4 events)
Average 2015 Field Size – 61 players (through 4 events)
North American Golf Tour (NAGT)
www.northamericangt.com
Director – John Downey, Patrick Polzin
Membership Fee – $90, includes NAGT golf Shirt
Number of Events – 19 (22 rounds), Weekends
Scoring – Gross Within Flights 16 handicap and better, Net in Flights over 16 handicap
Average 2015 Event Fee (per round) – $110
Average 2015 Payout per Player – $20 (optional), not included in Event Fee
Average 2015 Field Size – 13 players (through 8 events)