KPMG Women's PGA Championship Returns for an Encore in Chicago's Northwest Suburb
The best players in women's golf are set to take the stage once again for the 2018 KPMG Women's PGA Championship June 26-July 1, 2018.
The stage – Kemper Lakes Golf Club in Kildeer, Illinois – will host a Major Championship for the first time since hosting the 1989 PGA Championship, when the late Payne Stewart came from behind to win the first of his three Major Championships. Now, after an extensive clubhouse renovation and course upgrades, Kemper Lakes will end its 16-year hiatus from tournament golf and prepare the course for international attention.
A collaboration between the PGA of America, the LPGA Tour and KPMG, the KPMG Women's PGA Championship is one of the most prestigious Major Championships in women's golf with a mission to inspire fans and young girls nationwide and promote women's leadership initiatives – both on and off the golf course.
The Championship returns to the Windy City after last year's nail-biting finish at Olympia Fields Country Club, where breakout LPGA Tour star Danielle Kang turned in a dominating Sunday performance to capture her first career win and Major Championship. Kang delivered four birdies on the back nine to outlast a charging Brooke Henderson, the 2016 KPMG Women's PGA Champion. Kang will return to Chicago as a Major Champion, poised to defend her title in front of excited Chicagoland fans.
The excitement – on and off the golf course – is why the LPGA is bringing its best 156-player field back to Chicago for the second time in as many years. Over the past two years, each of the top 100 players on the LPGA Official Money List were included in the field, which featured a staggering 24 Major Champions.
"We are looking forward to returning to the Chicagoland area for another year of Major Championship golf," said Jackie Endsley, Championship Director. "The Chicago sports fans have been so receptive and welcoming to this Championship; it is the perfect place to bring all of this together and we can hardly wait for 2018."
With its international platform and promotional efforts, the KPMG Women's PGA Championship will aim to "Inspire Greatness" among its athletes, fans, and young adults.
"This Championship provides us an opportunity to highlight the incredible work that KPMG does for women and young leaders looking to take that next step," Endsley said. "This is an incredible event and opportunity for young golfers and girls to meet some extraordinary women and hear their stories of inspiration and perseverance."
For those interested in an up-close, behind the scenes look at a Major Championship, volunteering at the KPMG Women's PGA Championship is one of the best ways to experience the action.
As the Championship reaches new heights, volunteers will play a major role in delivering a memorable experience for players, spectators and the local Chicago golf community. All volunteers will receive a uniform, a credential providing site access from Tuesday through Sunday of event week, a Championship program, and a limited number of meal and water vouchers.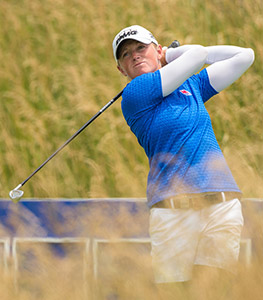 Volunteers can choose from 25 distinct categories, each of which offers an experience and opportunity for local residents of the North Suburbs of Chicago to be part of this Major Championship. For more information about volunteer opportunities, visit the Championship website, KPMGWomensPGA.com.
Tickets are also available online at KPMGWomensPGA.com. Daily grounds tickets to the 2018 KPMG Women's PGA Championship range from $15 – $35, and week-long tickets for $79. All juniors, 17 and under, will be admitted into the Championship for free with an accompanying ticketed  adult (limited to four minors per one ticketed adult).
To honor the men and women who serve our country in the U.S. Armed Forces, the Championship is pleased to offer active duty, military retirees, active reserve, National Guard, Department of Defense civilians and accompanying spouses complimentary daily grounds tickets.
Don't miss a second of the action this summer at the 2018 KPMG Women's PGA Championship at Kemper Lakes Golf Club. For up-to-date information, follow the Championship on Twitter at @KPMGWomensPGA or on Facebook at KPMG Women's PGA Championship.