Family Ties Carry "Chicagoland's Golf Management Company" Into Its Third Decade
GolfVisions' signature tagline of the last decade has been "When it comes to great golf, we have Chicagoland covered." Within GolfVisions, however, "We Are Family" is not just the name of a Sister Sledge hit single from 1979; it could well be the unofficial theme song for this Mundelein, IL-based golf management firm, which in 2021 is celebrating the 20th anniversary of its incorporation and looking forward to another strong year for golf coming off a 2020 season that set records for participation and enthusiasm.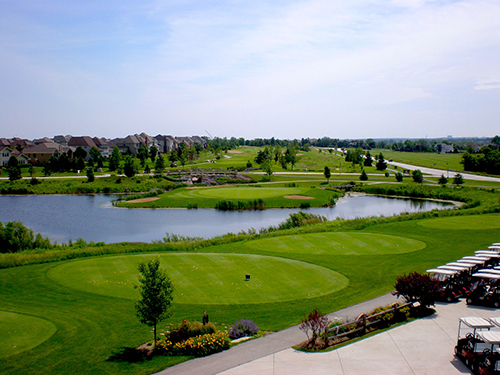 The unique culture of GolfVisions, which currently operates 14 courses encircling Chicagoland, is as its founder and president/CEO Tim Miles Sr. conceived it to be. "By 2001, I had already been a principal in two previous golf management companies," notes Miles, a golf industry stalwart who launched his career as a superintendent and PGA pro in the late 1960s. "With GolfVisions, I hoped to create a company that would carry forward my own philosophies about the game and embody a commitment to integrity and discipline within the business of golf…an evergreen company that would grow through the talents and hard work of an extended family, both my children and special team members who made a long-term commitment to the organization."
In the latter category is Chad Zipse, who has worked for Miles since the mid-1990s. "GolfVisions truly is a company that gives an employee every chance to learn, grow and advance upwards," says Zipse, general manager at Tanna Farms in Geneva since 2010. "The term family comes to mind when I think of the people I work with. They are people who care about and support every employee in every position, and Tim Sr. is a true role model and mentor for anyone in the golf business."
"I can still remember my interview with Tim Sr. for the GM position at Settler's Hill in 1990," reminisces John O'Connor, now a GolfVisions vice president. "I appreciate the loyalty the company and Tim have shown me throughout my career, and I look forward to continued success as GolfVisions is always focused on quality golf at affordable pricing for the golfer."
Observes Tim Miles Jr., who serves as GolfVisions' executive vice president and has direct oversight for about one-third of the portfolio, "While working in a family business can be a challenge, we strive to treat all key and seasonal staff as part of the family and build a trust and respect that carries through the entire team. My dad inspired and instilled this ideology, and we hope to continue on for years to come."
Tim Jr. notes that GolfVisions' emphasis on nurturing trust and respect extends to clients, as well. "We want to be a leader in the golf business while providing exceptional service to our golfers and clients. So we operate with a smaller, more intimate client base than the more sizeable management companies, which allows us to build relationships that positively impact communication and results."
Twenty years in, all of Miles' five children and two of their spouses have at one time worked for GolfVisions, while four of his nine grandchildren have found summer jobs at one course or another. Currently, two sons, two daughters, and one son-in-law are with the company in managerial roles while Miles' wife, a retired teacher, provides part-time administrative support. Several other key employees have been with Miles for 20+ years while others have been recruited into the firm by the dedicated core. For GolfVisions, these "ties that bind" have fostered stability and resilience in an industry that has been on a rollercoaster ride for the past couple decades.
"It's no secret that the golf industry has seen its challenges in the 21st century," says Miles. "We've gone through some big economic downturns, and here in the Midwest golf has felt the impacts of climate change with colder springs, wetter summers and shorter falls. We've seen increasing competition from other recreational activities and priorities changing as parents and grandparents spent more time on youth sports." All of this, Miles explains, contributed to flat participation in golf over the past couple decades. Even with an active emphasis on attracting juniors and other underrepresented groups, such as women, to the game, and a core constituent of passionate players, golf has not met the definition of a growth industry.
Ironically, it took the devastation of a global pandemic to bring golf's distinctive appeal back into focus. "Covid-19 has been a tragedy for millions of people who have lost loved ones or livelihoods, and it's put a damper on so much of what makes life worth living," Miles says. "One thing it hasn't dampened is golf. Golf is played in the great outdoors with social distancing built in. Throughout 2020, we had golfers telling us how grateful they were that golf was available to them and that they felt safe doing it. We saw a lot of renewed interest in the game as well as a healthy number of newcomers."
Another factor contributing to golf enthusiasm in 2020 was the warmer, drier weather experienced throughout the Midwest from June through November. "At one point this summer, every day felt like 'Groundhog Day,'" laughs Miles. "We may not see a Memorial Day through Labor Day period like it again."
Levels of play in 2020, Miles says, were reminiscent of both golf's 1980s heyday and its surge upon Tiger Woods' arrival on the scene in the late 1990s. "I'm grateful that my kids and everyone in our company were able to experience this kind of excitement and success within golf," notes Miles. "Plus it gives all of us a sense of fulfillment that we were able to bring some enjoyment into people's lives during a really difficult time."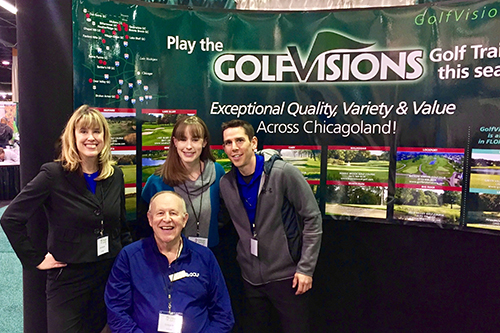 Reflects Tim Jr., "It was nice to have a 2020 season that was positive for the golf industry despite being challenging at the same time. The great attitude of our staff as a whole showed the respect they have for our golfers and our business. We hope that 2021 is another exceptional golf season that continues to bring out the best in golfers and our staff alike."
Miles Sr. also expects his company's 20th-anniversary year to be another busy one. "We are all optimistic that vaccines will help us turn the corner on getting back to normal sooner rather than later," says Miles. "But my sense is that this renewed interest in golf will endure beyond the pandemic. People who hadn't played much or at all in years have rediscovered what they love about this game…the exercise, the social aspect, the friendly competition, being in nature. People new to the game have jumped in with gusto. This could be just the beginning of a renaissance for golf."
For more information on GolfVisions, please visit www.golfvisions.net.