Illinois Event Planning
Featured Venues
Plan your next event at any of these Chicagoland featured golf and country club facilities, and experience picturesque golf course surroundings, along with professional event planners to help take care of every detail. Also, our seasoned event planners can help you with recommendations based on budget and preference, or we can plan your event from beginning to end. These featured event venues are perfect for your next gathering, golf outing, wedding, or corporate event.

Arlington Lakes Golf Club - New Event Offerings!
Looking for a quaint yet modern banquet facility and newly removeled clubhouse overlooking a scenic view with attentive staff committed to making your event both easy and stress free? Look no further than Arlington Lakes Golf Club, where affordable rates and friendly service combine to simplify your party planning experience. Combine 3, 6, 9 or 18 holes of golf with your next meeting for a truly unique experience!
Accommodates 115 guests
Outstanding views
White linens provided
Ability to bring in your own food and soft drinks
Affordable alcohol packages available
Great add-on options
Available Full Liquor Bar (call for pricing)
Ask about:
Smaller room perfect for business meetings, showers in or other intimate gatherings.
Fabulous outdoor patio area seating 70, features beautiful landscaping, outdoor bar and grill options in a serene and relaxing atmosphere.
Book a "Golf & Meeting" Package for a truly unique experience.
For more information on meetings, events, outings, lessons and more, visit www.ahpd.org/algc or call 847.577.3030 or 847-577-3031. Contact Emma Edmondson at 847-577-3031 to book your next event. Via email at: eedmondson@ahpd.org. Weekend dates book quickly, call soon!
Reawaken Your Game - Arlington Lakes Golf Club
---
Billy Casper Chicago Offers First Class Golf Outings -- All Shapes & Sizes!

Save $100 Off Your Next Golf Outing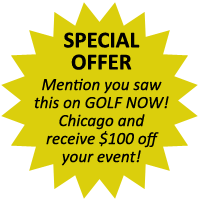 With exceptional customer service, customizable outing packages, affordable pricing and convenient locations across Chicagoland, BCG Chicago guarantees to have a prime facility to fit your needs and create a memorable experience.

Worry Free Beginning
Warm Up and Practice Facilities
Pre-Outing Breakfast, Lunch & Drinks
Organized Registration & Check In
Hand Crafted Experience
On-Course Contests and Prizes
Beverage Cart Service & Customized On-Course Beverage Stations
Hole-in-One Package Options
Top Notch Conclusion
Post-Round Lunch, Dinner & Drinks
AV Equipment for Awards & Announcements
Score Keeping and Contest Management
For more information, visit bcgchicago.com
Experience A First Class Outing
---
The Glen Club Offers More Than Championship Golf!
No matter the type of celebration, The Glen Club is the perfect setting.
Their beautiful 48,000 sq. ft. clubhouse provides several banquet halls and event spaces appropriate for any social or corporate gathering. The Grand Ballroom features floor-to-ceiling windows, overlooks our picturesque golf course, and accommodates groups of 50-200. The private Pickwick Room also features windows and offers a warm and comfortable setting for 20-40 guests. The classic Boardroom, with windows all around, allows for a meeting or intimate brunch, luncheon or dinner event for up to 22 guests.
The Hotel at The Glen Club is a perfect pairing for any event. Their fully appointed boutique style guest rooms are spacious and elegant, many with balconies and beautiful golf course views.
Convenient to downtown Chicago, O'Hare and Palwaukee Airports, their spectacular clubhouse, with world-class guest accommodations offers you glamour and intimacy, unmatched service and sophisticated luxury.
The Glen Club will work with you to create a flawless event. Call (847) 410-1426 or visit www.theglenclub.com.
Fazio Championship Golf is just the beginning!
---
Bolingbrook Golf Club For Your Next Premier Event
Celebrate your special day in the elegance of Reagan Grand Ballroom at Bolingbrook Golf Club. Whether your party is for 30 or 800 guests, their staff will carefully orchestrate all of the details to make your wedding the most memorable of any occasion.
Professionally trained staff will ensure that your special day exceeds all of your expectations. As your guests enter the main lobby of the golf club, they are welcomed into the living room area with a two-story stone fireplace, setting the stage for a perfect event. The pre-function area of the ballroom will host cocktail receptions with walk-out adjoining verandas, outdoor seating, and views of their picturesque golf course.
Visit www.bolingbrookgolfclub.com for more information on events.
Success. For the best. By the best - at Bolingbrook Golf Club.
---
Harborside International Offers Outings, Events & Stunning Views
The Pier at Harborside offers complete catering services for private events. The space is perfect for hosting a birthday party, a bridal shower, an intimate wedding reception, a rehearsal dinner or a holiday party. The best part is that you and your guests will experience the delicious food and drinks that you have come to expect and enjoy from Harborside International. The clubhouse can seat up to 250 people or accommodate around 300 people for a walk around reception. Harborside offers everything from plated dinners to elegant buffets to hors d'oeuvres cocktail receptions. They can customize the food and beverage menus to fit your taste and budget.
If interested, please contact Kylee Rosenbaum at (312) 782-7837 x 237, krosenbaum@kempersports.com. For more information visit harborsidegolf.com
---
Events & Outings at Naperville's Springbrook & Naperbrook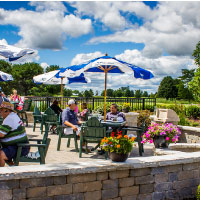 Springbrook or Naperbrook Golf Course can make your outing, meeting or event a special one. They can customize a package that suits your needs that includes 9 or 18-holes of golf with options for snacks and meals, and more.
Do something a little different for your next meeting and make it more enjoyable. They can host your group indoors for the business part of your day, and set up everything you need for your presentation or workshop. Then, after enjoying some lunch, head out to the course for 9-holes and or a clinic with one of our golf pros.
Looking for a new place to host your next party or get-together? Springbrook or Naperbrook Golf Course can provide you with all the amenities you need including tables and chairs, food and more. Give them a call and they can arrange a time to discuss and book your event.
At Naperbrook, call Tim Dunn at (630) 697-8661 or at Springbook contact Mike Lyzun at (630) 848-5070. Find out more at golfnaperville.org.
Springbrook And Naperbrook Golf Courses
---
Odyssey Country Club For Your Wedding or Special Event
The refined ambience and splendor of The Odyssey is evident the moment you walk through its doors. It is altogether small and intimate ... grand and elegant with personalized service and gourmet cuisine that is unequaled in the southern suburbs.
The Odyssey is the top choice for weddings, bridal showers, baby showers, fundraisers and benefits, luncheons, and business events. Envision your closest colleagues or friends gathered in a private setting for up to 1,000 guests in its grand banquet halls. All of this is delivered to you with impeccable professionalism.
The Odyssey is truly a gem ... in a location that's extremely accessible. For more information, visit odysseycountryclub.com.
Odyssey Golf Foundation
The Odyssey Golf Foundation is a 501(c)(3) non-profit organization that provides both the therapeutic and recreational benefits of golf to veterans, active military personnel, and children and adults with special needs.
Through the use of their golf course and professional staff, the Odyssey Golf Foundation provides free golf instruction, practice and education to participants.
Every time you play, you support the mission. The Foundation programs are funded through revenue generated by greens fees, sponsorships, partnerships and the generous donations of individuals, groups and corporations.
Learn more at odysseygolffoundation.org.
---
Ravisloe Golf Club Is The Perfect Event Destination
Ravisloe has it all: unparalleled ambiance, with Gilded Age architecture housing banquet facilities newly renovated in the classic style. Lush garden surroundings. Relationships with carefully selected "preferred" vendors. And, an experienced and enthusiastic staff dedicated to making your event wonderfully memorable and memorably wonderful.
Please call (708) 798-5600 for more information or e-mail weddings@ravisloe.com. For more information, visit ravisloe.com.
Public Course With A Country Club Experience